Our 4 key principles of KAPP are constantly demonstrated by our students.
These stand for;
Giving to and caring for others.
Aim high, dream big and believe you can get there.
Digging deep and never giving up.
Being proud of who you are, what you achieve and the success of others.
Kindness to us means giving to and caring for others. This is not just within our school building but within our community as a whole. At the heart of things, and what is most important, is people caring for one another; being kind. Kindness grows trust, friendship, and a common sense of community. Through a range of activities we nurture those conditions that grow kindness to build a more caring and equitable community. 
Aspiration is so important for students to be able to achieve their potential. Within our school, we provide a range of opportunities, both within and outside of the classroom for students to go beyond their best. We truly believe the possibilities for our students are endless, if they work hard and aim high. We encourage students to aspire to achieve through their tutor time and academic studies but also through activities within the community.
Perseverance is digging deep and never giving up. We believe in challenging our students and have the highest of expectations for them. By persevering, our students are able to learn important life skills that they take with them into all areas of their lives. Three times a year, students from each academic class are recognised and rewarded for their outstanding effort, resilience and hard work.
Pride; we are incredibly proud of all of our students. We believe that in being a Durrington student, they are part of their company, school and community. Students are recognised and rewarded for representing #TeamDurrington in a range of areas; from sporting success to external competitions. 
Our system of KAPP rewards and recognition ensures we are able to award students for going beyond their best in a variety of ways. Please see the information below to see how you can help us. 
How can you nominate your child?
It's very simple. Just let us know if your son/daughter has done/achieved something amazing.  Their achievement/success needs to have occurred since 1/9/2020 and also fit within one of the KAPP categories (as described over the page). We have tried to make things as simple as possible. The only thing you need to do is complete the form below, telling us about your child's accomplishments. We will then have a look at the information you send to us and make a decision as to whether the threshold is reached to award a KAPP badge (if this is not the case we'll give your child some feedback or a different type of recognition) 
Parent/carer - Examples of KAPP awards that you can help us to recognise:
Within school, we will award students' for showing aspiration and pride through their academic work. Students will be awarded for both effort and attainment through meeting our highest expectations and going beyond their best. Below in the table are some of the ways you can help us acknowledge their achievements out of school.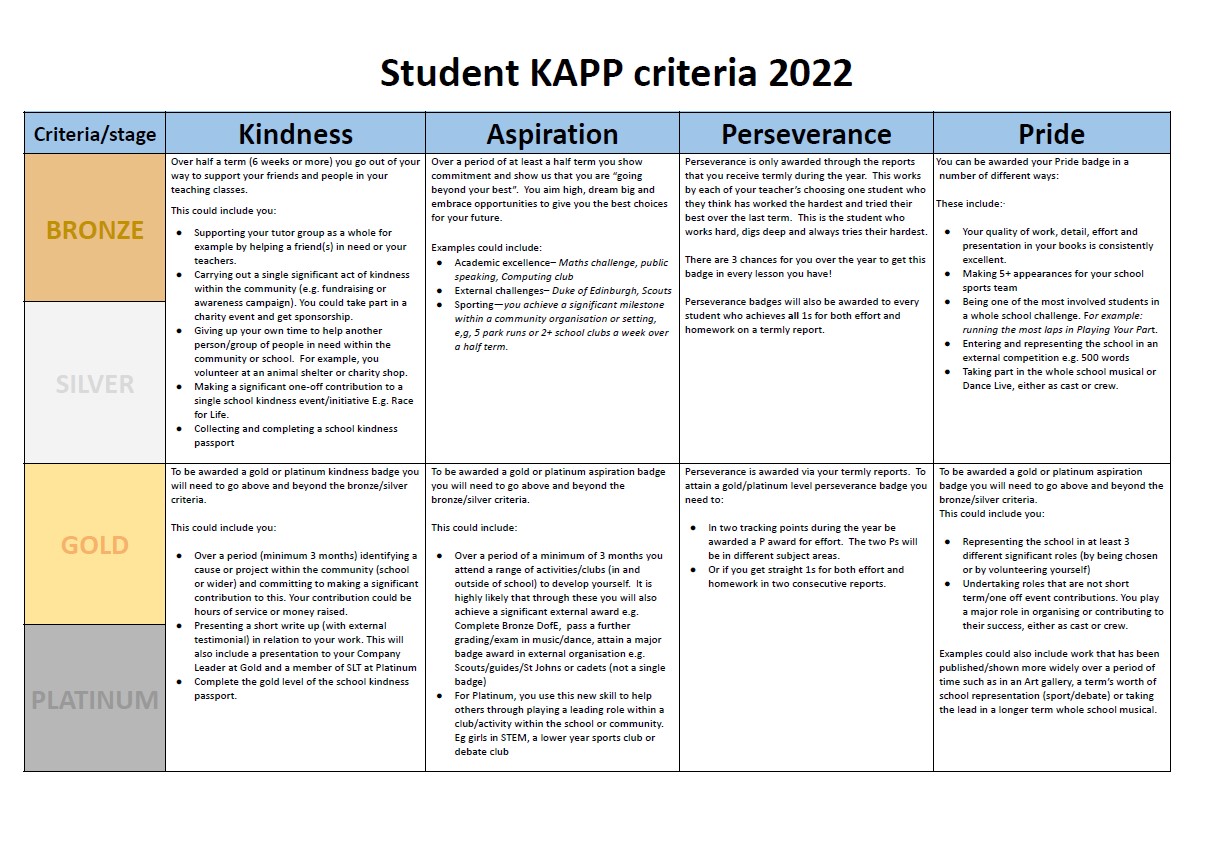 Hi, my name is Callum and I am in year 10. I'm going to be talking about why you as a year group should get involved with KAPP challenges. To
Read story »
Callum Cummins in year 9 was awarded the platinum badge for kindness which was presented during the Senior Leadership Team meeting. As part of the award ceremony Callum gave a
Read story »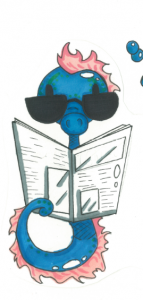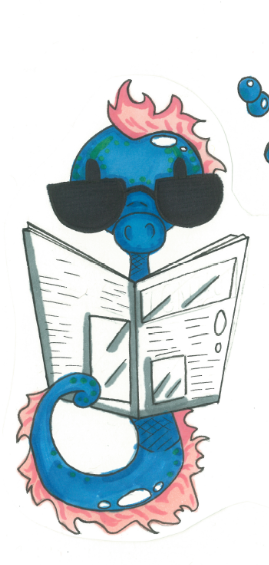 We are delighted to share the latest edition of our fantastic Creative Writing Club anthology The Seahorse: What if? Students have worked incredibly hard on their pieces over the last
Read story »