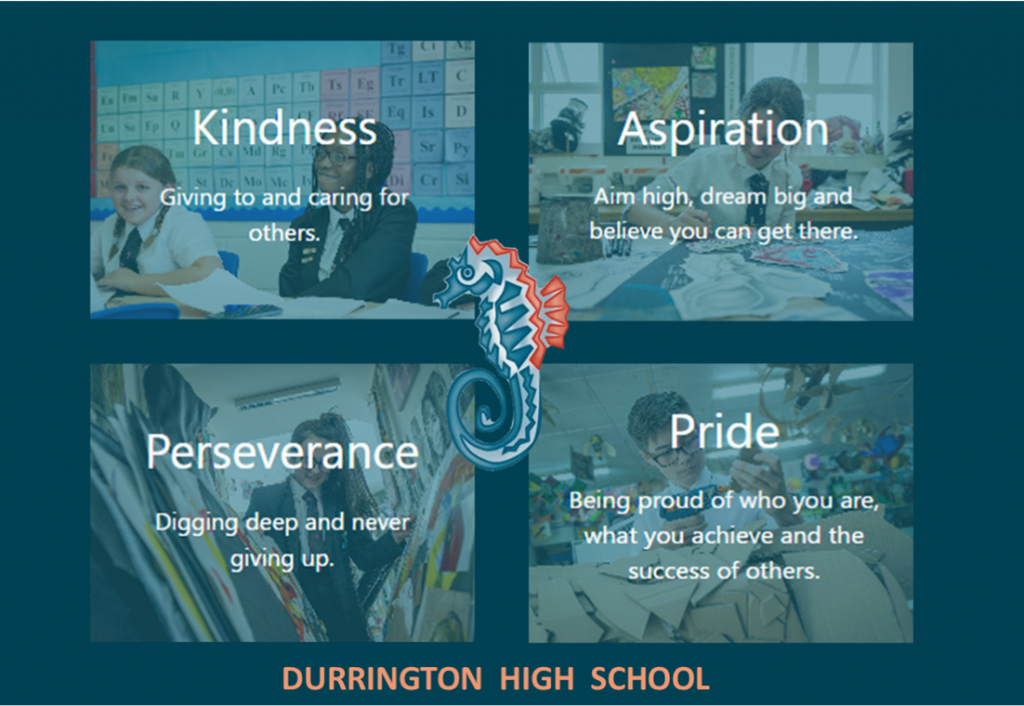 We would like to say a huge thank you for all your support this term. Whether that be attending a parents' evening, supporting our brilliant musical, helping your child with their homework, making sure that Y11 students attend tutorials or encouraging them to come to school, even when they feel a little under the weather. All of these things mean a huge amount to us and really support your child's learning and confidence.
We hope you manage to find some time over the next two weeks to relax and recharge with friends and family.
As always, we look forward to welcoming students back to the summer term on the 17th April.
Shaun Allison & Chris Woodcock
Performing Arts
What a few weeks it has been for the Performing Arts team!  All GCSE Drama students completed their practical GCSE Drama exams to an external examiner, they all performed two extracts and should be proud of the work they created.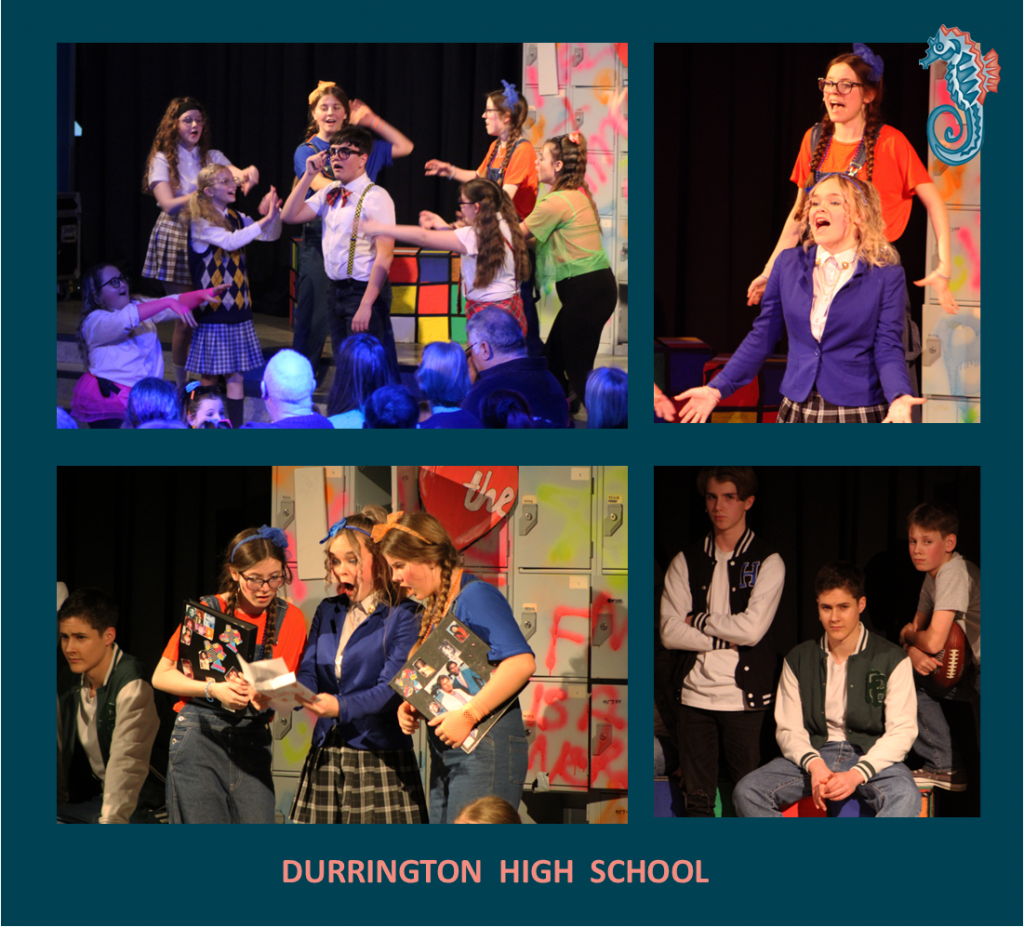 Last week we saw so many students take to the stage in our production of 'Back to the 80s', the students were amazing and every one of them was a credit to the department.  Audiences loved singing along to classic 80s tunes and the whole hall was electric with standing ovations and happy tears.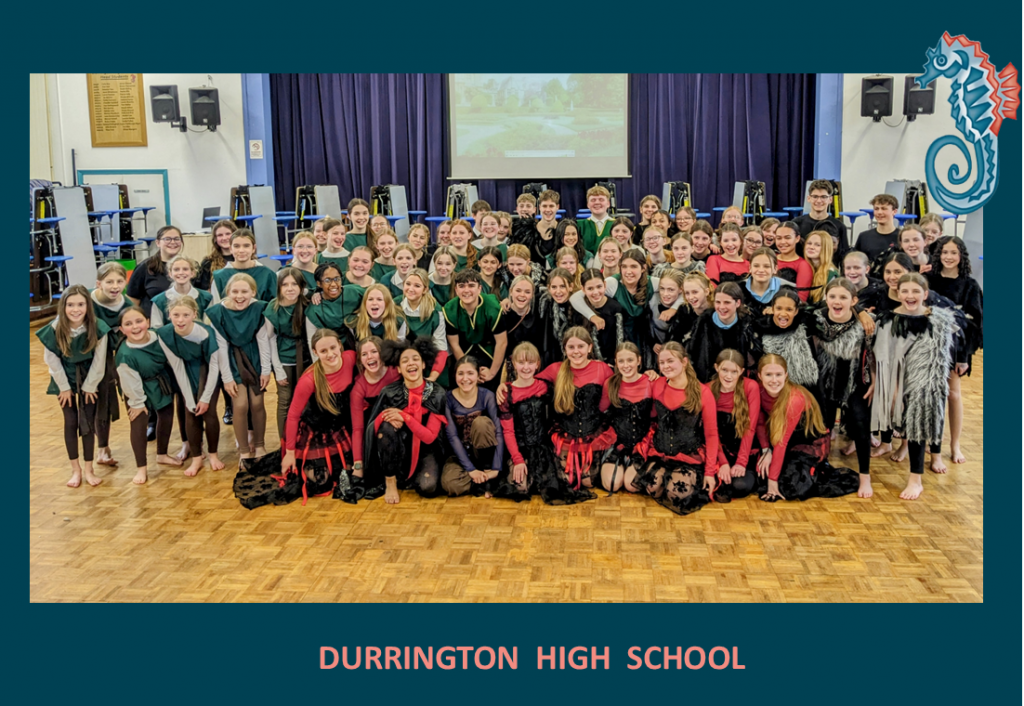 Last night we took 85 students to The Congress Theatre, Eastbourne to compete in Dance Live.  The students were outstanding from the start of the day to the end, they were kind, supportive and certainly demonstrated the core values of Durrington.  We were awarded a certificate for our highest scoring element which was our LED Screen, we also won overall Technical award for our lighting, soundtrack and LED screen and were crowned overall winners of the event.  This means we compete in the final in Portsmouth on 25th April.  Winning the event was the icing on the cake but as a team we are so proud of the students for their hard work, commitment and dedication since September, they have been positive and inspiring throughout every rehearsal and have been a joy to work with.
Mrs Isham – Director of Performing Arts
Sporting success
This fortnight, despite a narrow 3-2 defeat including a fantastic free kick from Ethan Roberts, the year 11 boys football team have progressed through to the semi-final of the district league. Sticking with football the year 7 girls have also made it through to the semi-final of their district league so a massive good luck to both teams.
Year 10 boys' football have won 3 games from 4, picking up 2 wins in the last fortnight against Shoreham Academy and Steyning.
The year 9 boys rugby team are currently sat 3rd in the rugby table after picking up a 20-0 win against St Oscar Romero. With a game in hand, we look forward to seeing their challenge for the title.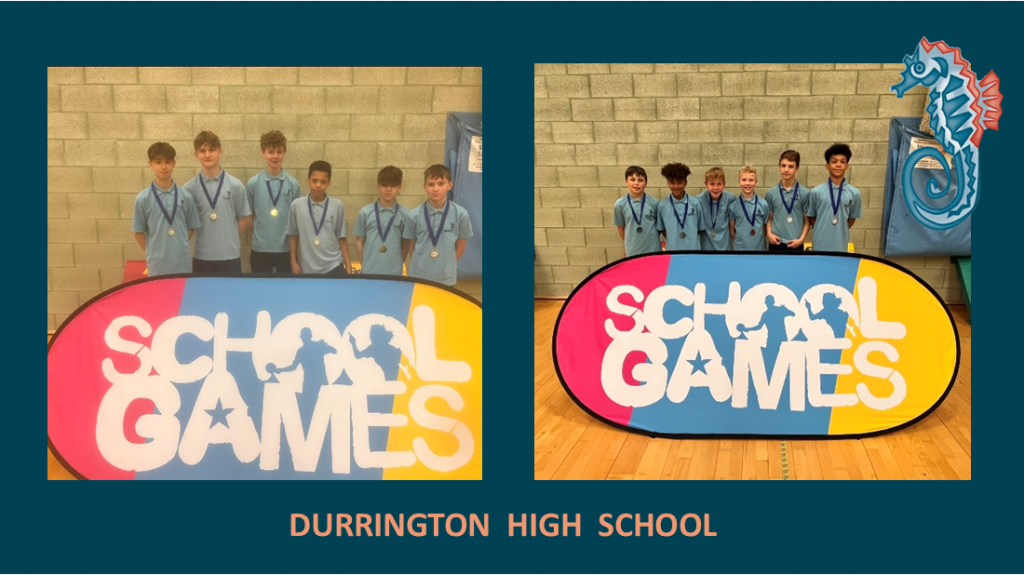 Our year 7 and year 8 boys both competed in the indoor athletics county championships. They both put in an outstanding performance with the year 7 boys finishing 2nd and the year 8 boys coming home with the Gold medal. So a massive congratulations to the following boys, year 7: Theo Crowley, Asher Adebisi, George Walton, William Standing, Louis Croft and Liam Thomas; Year 8: Kian Davies, Chiem Gurr-Enyi, Toby Quick, Leon Barber, Archie Ansell and Oscar Cramp.
Mr Pickford – Director of PE
STEM Week
A fabulous week of Science, Technology, Engineering and Maths, with new and creative lessons delivered across the school inspiring our KS3 students to discover future career paths and aspirations.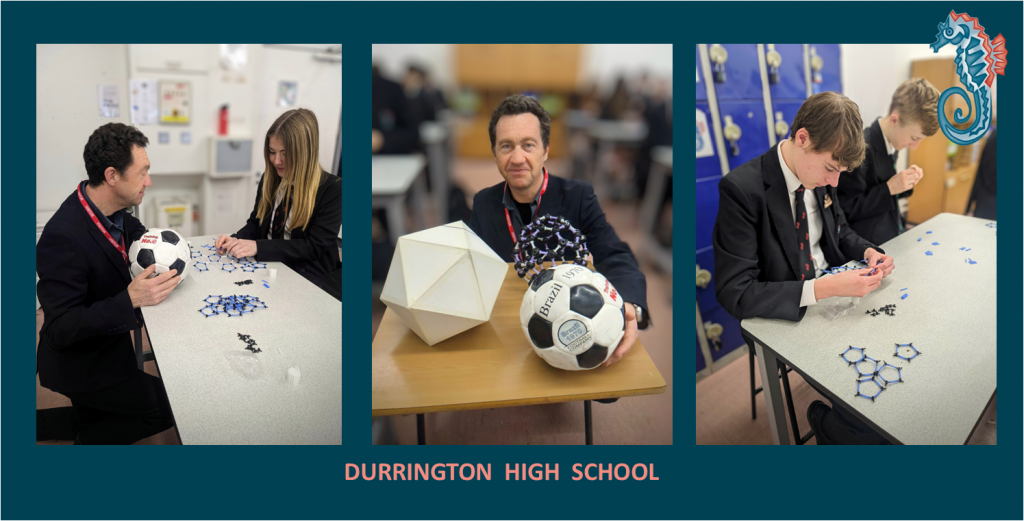 We were delighted to welcome special guests Professor Pritchard, from the University of Birmingham, and Dr Jonathan Hare, physicist and TV presenter. Prof Pritchard delivered fascinating talks on evolution, and Dr Hare ran his infamous Bucky Ball workshops where students assembled their own Carbon-60 molecule.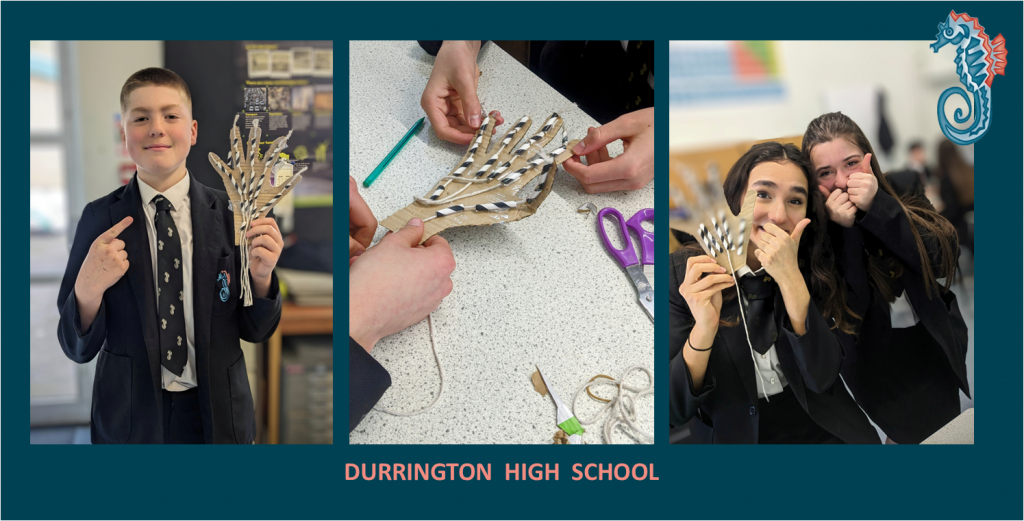 Students also took part in designing and building their own ball run, enhancing their engineering skills, and made their own mechanical hands which needed to be strong enough to pick up a tennis ball. Plus created their own eco system using recycled plastic bottles.
Specialist lessons also took place in other subjects including geography and computing, where students focused on the future of robotics.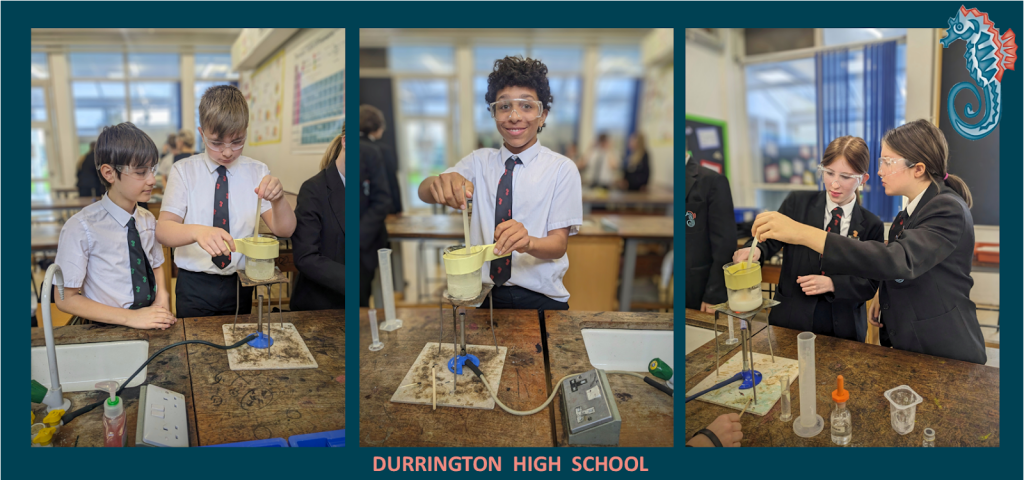 Twenty-one year 7 and 8 students were taken to the AMEX for a Soccer STEM Enrichment Day. The focus of the day is to develop Digital Skills & Financial Literacy, using the power of football and the brand of BHAFC/American Express to inspire and engage young people in the world of coding, business and enterprise. Students had fun in all three sessions and even got to go into the AMEX stadium to hear about the technology used by the ground.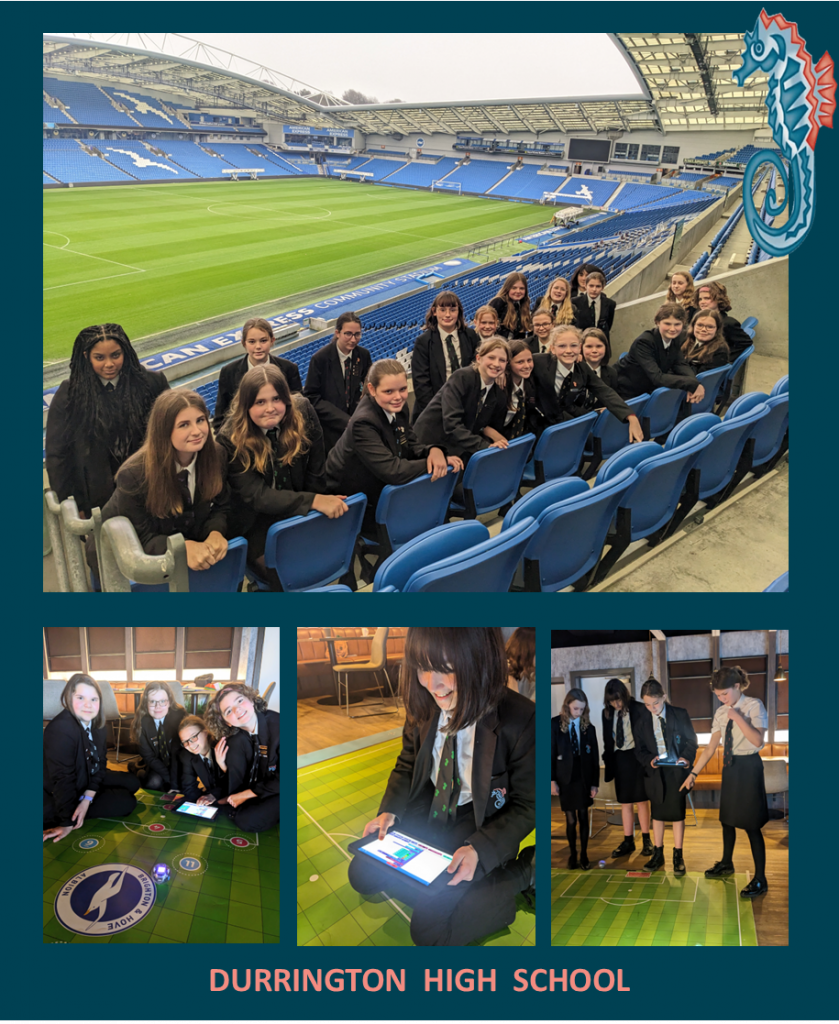 During the day students worked with Sphero Robots developing digital literacy skills through coding:
Session 1 Digital Literacy
· Students were supported by volunteers to block code using programmable-robots through a series of football themed challenges
Enterprise Challenge – Football Theme Park
Session 2 Financial Literacy
· Students took part in an active learning challenge that involved creating a football themed amusement park. Session 2 looked at planning and choosing their rides, retail units and catering units within an agreed budget. Students worked with volunteers to work out the income, costs and profit of their proposed football theme park, through a series of decisions & challenges they were presented with
Session 3 Creativity
· Students then physically designed their football theme park, using pre-created planning templates & attractions chosen in Session 2. Volunteers helped support the students in the making of decisions that supported the challenge brief
This was a brilliant day of STEM enrichment and all the students really enjoyed their visit. Thank you to the Amex UK and Albion in the community teams and we are looking forward to working together again in the future.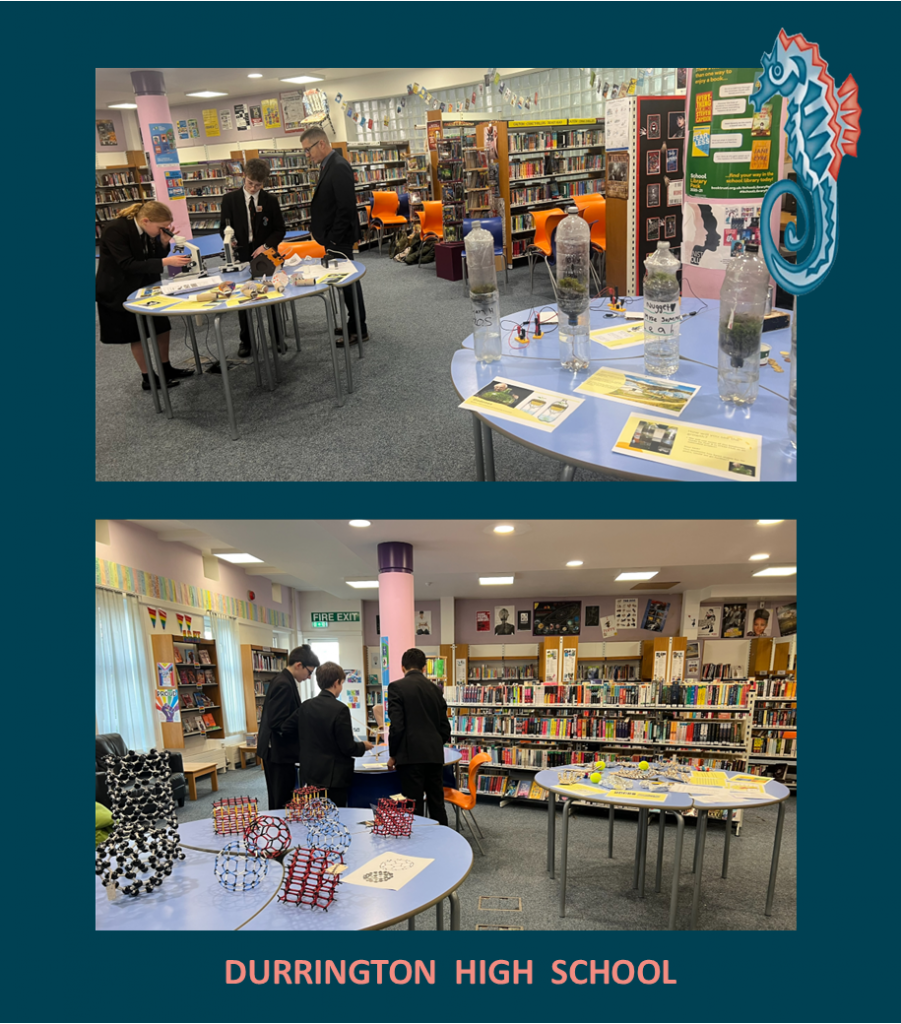 At the end of the week it was a pleasure to welcome family and friends to our STEM showcase. The student work on display was fantastic and a great way to celebrate everything they achieved during our brilliant week of STEM!
Thank you to our fabulous science and computing department for organising such a great event.
DHS Careers
Year 10 Taster Days
There are upcoming opportunities for current year 10 students to visit colleges and find out what's on offer for September 2024 entry. Applications are made directly with the colleges using the links below. If your child is taking part, please follow the usual school absence procedure. We are working with Worthing College to offer a managed taster day and we will release details of this soon.
Varndean College – Monday 10th July – Link
BHASVIC – Wednesday 13th July – Link
Year 11 Apprenticeship Opportunities
Last week we were pleased to welcome the Amazing Apprenticeships team into school to lead workshops for those students wanting to consider real work as part of their Post 16 pathway. Many local job vacancies are starting to come online, and we would encourage anybody interested in working and gaining a recognised qualification to start searching now.
Look here to find local opportunities.
Look here to view a really useful guide for families supporting their young people.
Take a look at some amazing opportunities for school leavers from Southern Water and Shoreham Port with salaries starting at £16,000.
Careers Club
We ended this term's KS3 Careers Club with a visit from Marnie, the owner of Flux Studios. Students developed their questioning techniques by guessing Marnie's job, which was followed by a fascinating talk about her journey from cruise ships in the Caribbean, all the way to becoming an award winning local business owner with some fascinating insight into a specialist sector of the beauty industry. As always, we are keen to hear from you if you would like to get involved in sharing your story with our students. Get in touch with us by emailing careers@durring.com
Marnie said "It was a pleasure to meet you and the children. I thought them to be a lovely group of young people with great listening skills and awesome well thought out questions."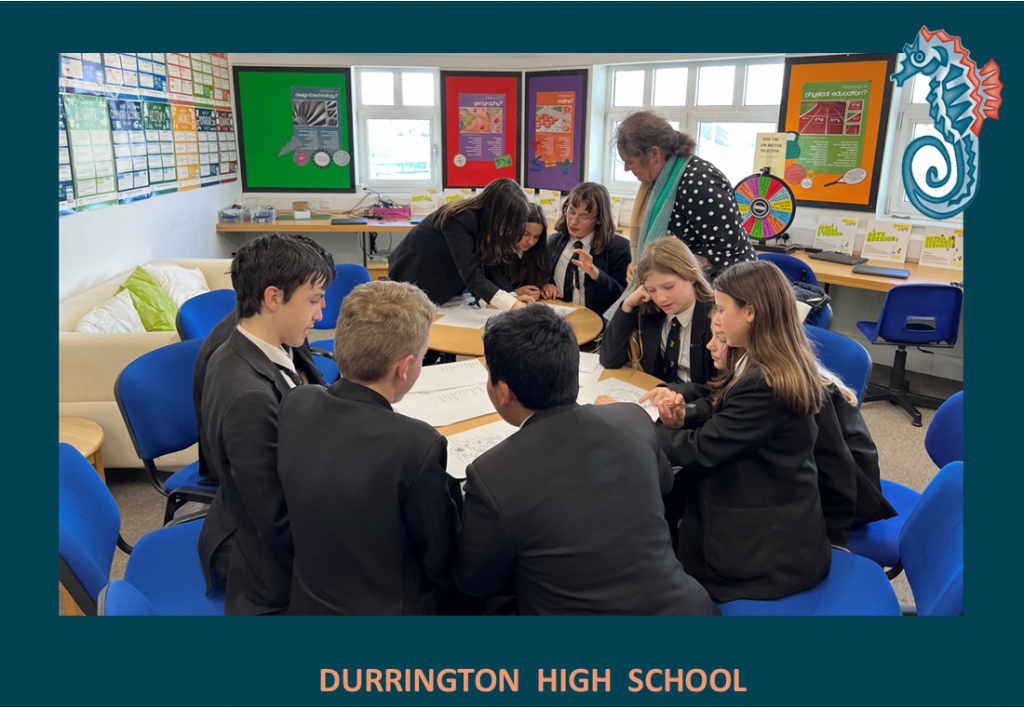 Mr Henry – Careers Leader
Growth, Resilience, Integrity and Teamwork with West Sussex Fire & Rescue
Congratulations to DHS students Tallulah and Reggie who attended the GRIT course run by West Sussex Fire and Rescue Service's Targeted Education Team (Growth, Resilience, Integrity and Teamwork). GRIT is an early intervention project for 11 to 13 year olds. The aim of the project is to promote self-care and resilience and to achieve connectivity between emotional health and wellbeing and the physical health needs of young people. GRIT aims to foster a wide set of personal strengths, skills and self-belief that prepares a child for adult life through outdoor activity, community volunteering and drill yard skills.
Tallulah and Reggie completed the week with a successful pass out parade in front of parents, school staff and the High Sheriff of West Sussex.
Ms Rice – Inclusion Leader
Clubs update
It has been brilliant to see so many Durrington students getting involved in our wide variety of extra-curricular activities this term. We have had a large amount of sporting success as well as a brilliant whole school performance and preparations for Dance Live.
The highest attended clubs per year group are shown below-
Year 10- Dance Live
Year 9- Rugby
Year 8- Code Club
Year 7- Dance Live
Also, a big congratulations must go to students within Franklin, who have attended the most clubs this term by over 150. Brilliant effort from all students involved.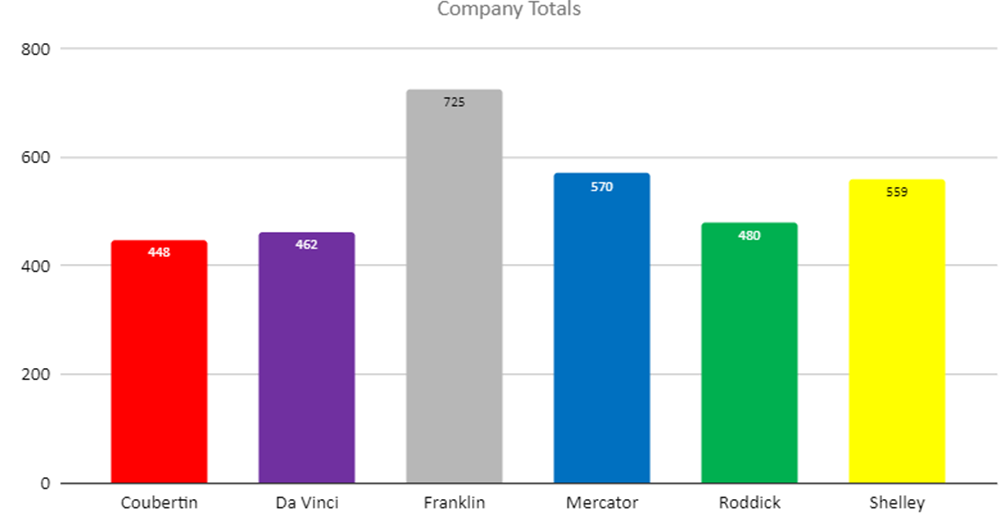 Mr Poole – Company Leader Da Vinci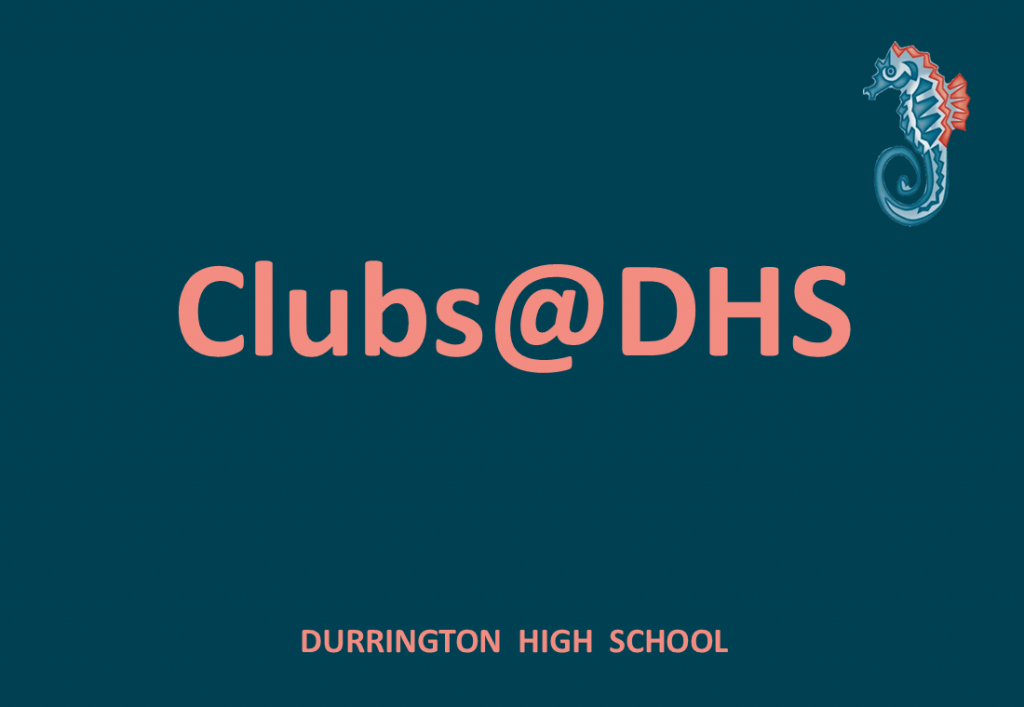 A reminder you can find all the latest extra-curricular clubs on our website here:
DHS Easter trip to Iceland!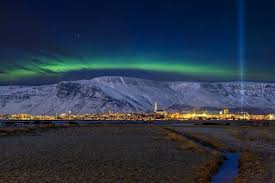 A big announcement from geography as we gear up for the first ever DHS exploration of Iceland from 10-13 April. 57 students and 6 staff will be scaling glaciers, skirting waterfalls, summiting volcanoes and roaming around Reykjavík. We can't wait to go and will be coming back with memories to last a lifetime.
Mr Atkins – Head of Geography
Can you help make a difference?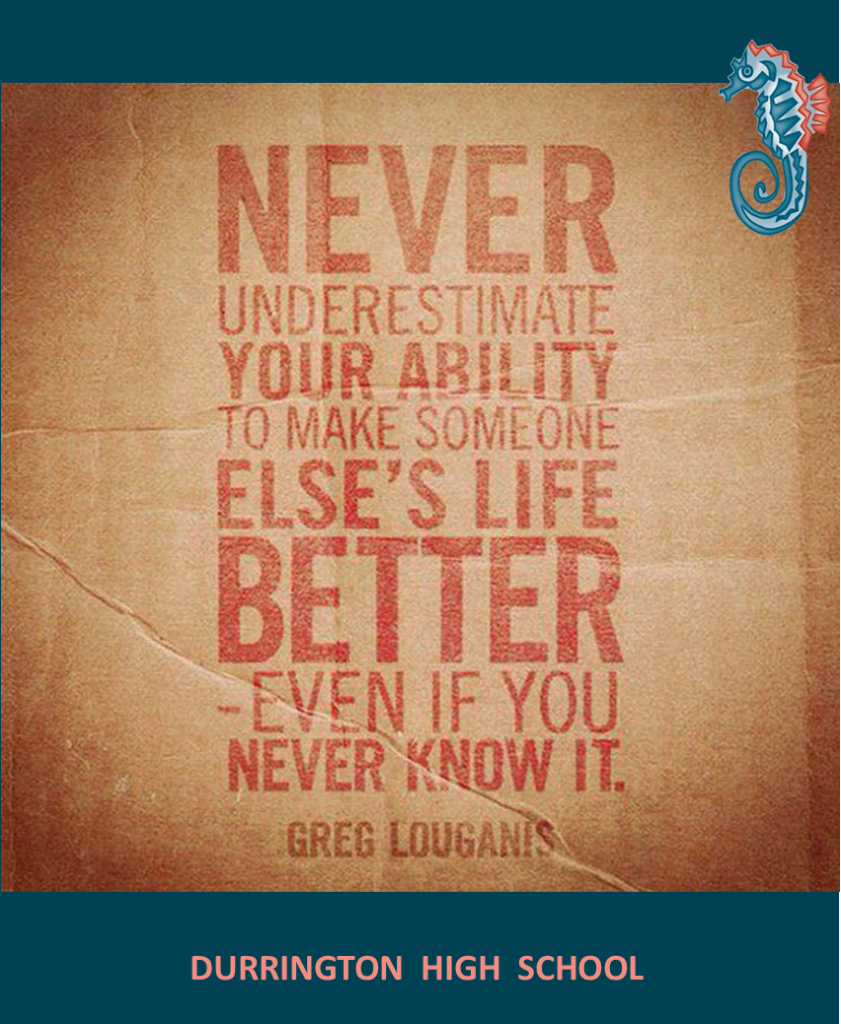 The Year 11 summer ball is approaching and we would absolutely love any donations of dresses, suits, bow ties etc. Items can be returned after the event if you so wish and will be cleaned.
If you have anything suitable for our students to wear on their big day please drop off at reception during school hours.
Any questions can be sent to Mrs Wallis-Tayler on lwallis-tayler@durring.com
Your support is greatly appreciated and will make a big difference.
Easter activities in partnership with DHS
Activ8 For Kids are really excited to announce their new Easter Activity Hub at Durrington High School. They have a fantastic range of activities from skateboarding to hockey, to arts and crafts and cooking. Sessions available for children aged 4-11 years and more advanced sessions for teens aged 12-16 years. Places are limited and will go quickly so ensure you book your space in time. They are also able to offer a number of free places under the HAF scheme.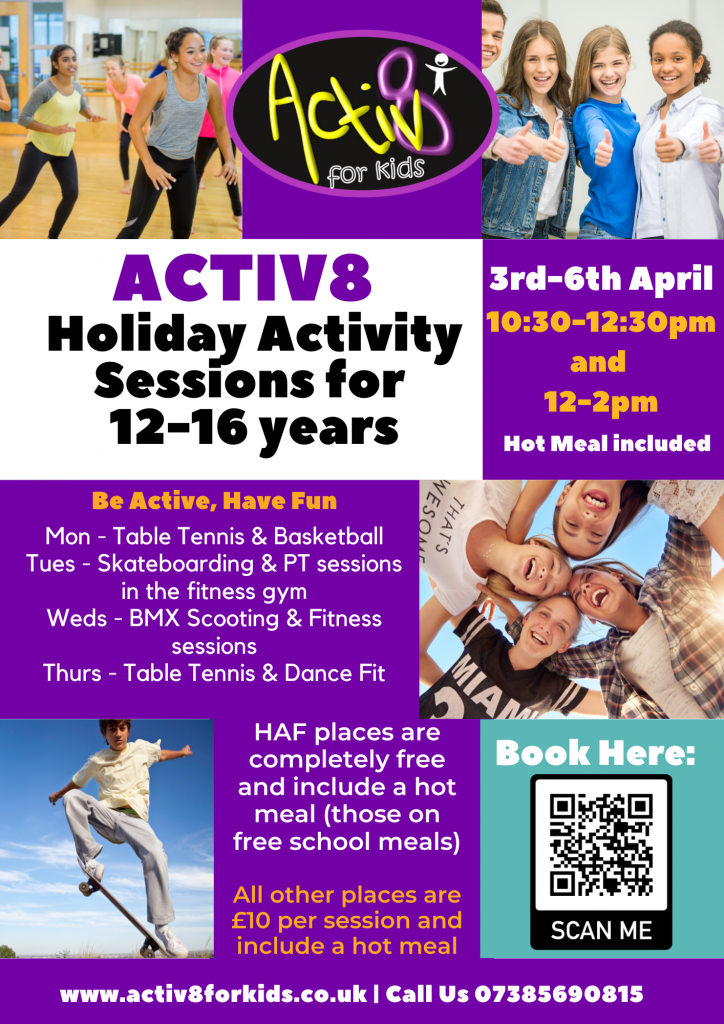 For young people that are in receipt of free school meals aged 12-16 can come and enjoy Audio Active's free Easter Holiday Music Programme. The sessions are run by a great team of experienced musicians, producers and rappers. The young people will learn how to make music, produce, sing, record and anything else they want to do.
All sessions are free and we provide a hot lunch:
When:
The sessions run from 11th-14th April (Shared performances on the 14th 3:30-7:00)
Where:
Audio Active 85-87 Montague Street
Times:
10:30-14:30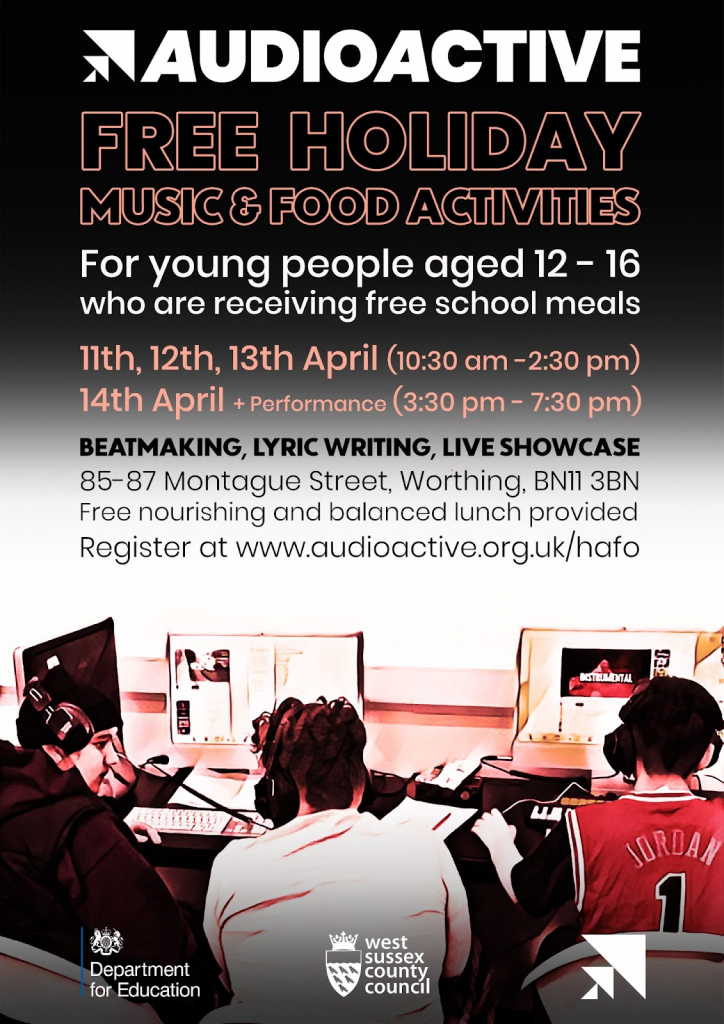 Recruitment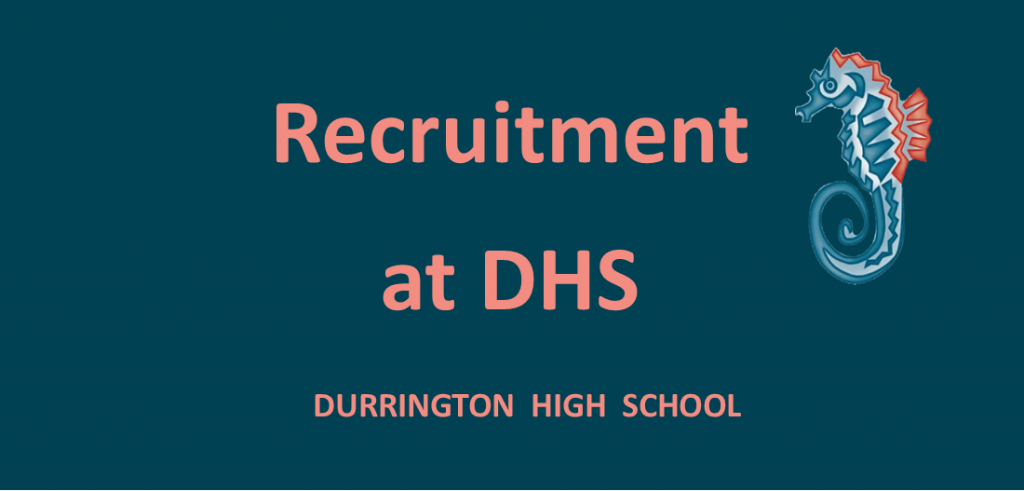 Are you a parent or carer interested in becoming a teacher? Come and train with an Ofsted outstanding provider!
Our school is part of a partnership of schools leading the way for more school-led teacher training as part of The South Downs SCITT. This is really important to us because it means we can choose the very best talent and develop them into teachers. Being able to choose who we train as teachers helps us in delivering the best outcomes for the students at Durrington High School.
We have vacancies now to start training from September 2023 and we would be very interested to hear from you if you are thinking of becoming a teacher or know someone who is.
Get in touch with the friendly team at The South Downs SCITT – Tel: 01903 705671
(Durrington Multi Academy Trust, The Boulevard, Worthing).
Social media
Don't forget you can follow all the latest news on our social media pages including our brand new Instagram page!
Facebook: Durrington High School | Worthing | Facebook
Twitter: Durrington High (@DurringtonHigh) / Twitter
Instagram: Durrington High School @dhssocialofficial
Diary dates
Friday 31st March – Last day of term – students dismissed at 12.25pm
Monday 17th April – first day of the Summer Term (timetable week 1)
Thursday 11th May – Year 10 consultation evening
Term dates for the 2022/2023 academic year and 2023/2024 academic year can be found here.