We were delighted that over 100 year 11 students took part in our annual stress-busting mud run challenge on Sunday 12th March. On what was a (thankfully) warmer day than previous years the group were in excellent spirit and spent over 90 minutes completing a mixed course of obstacles and challenges. Staff too participated alongside each group of students. The camaraderie shown, commitment to take on and overcome new challenges and general attitude of the students was excellent. We would like to thank the staff who organised this event, and for their positive encouragement to the students. As one student said "I really didn't know what to expect, I loved it and would definitely do it again if I got the chance". Louise Wallis-Taylor, trip organiser, said "It's fantastic to see so many students choose to take part in events like these alongside the staff. With GCSE exams in the coming months it is important that all students achieve a balance between hard work and taking the time to be physically active and spending time outdoors, and this event certainly fits the bill."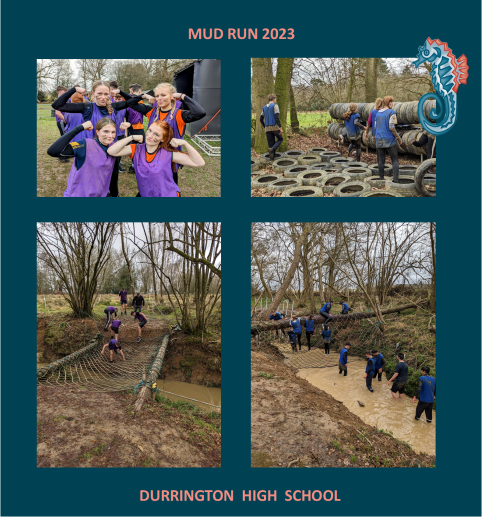 Shaun Allison & Chris Woodcock
Visit from Sir Peter Bottomley MP
It was a delight to show Sir Peter Bottomley MP around our brilliant school last week, and for our students to have the opportunity to ask him questions about his experience of being an MP. It was fascinating to hear his views on many current affairs and lovely that he was so encouraging and inspiring to the students that met him.
Sir Peter said: "Thank you to the entire community at Durrington High School for the warm welcome, the tour provided by the Head Students and the helpful discussion with the leadership team."
"It was encouraging to hear from so many polite, intelligent and curious young adults. The students asked a variety of challenging, engaging and inquisitive questions."
"The teaching and supporting staff work tremendously hard to foster a new generation of aspiring citizens and leaders. They do so with what they are afforded from national and local budgets."
"I will continue to campaign for fair funding for West Sussex Schools and for targeted investment in the Special Educational Needs provisions across Worthing and Arun."
Dare to dream
Thank you so much to the Dare to Dream team @ LoveLocalJobs.com and phenomenal presenter Jack the Lad for his inspiring presentation to our year 10 students yesterday. We cannot wait to see you again next month.
#selfawareness #mindset #gratitude #resilience #teamwork #employability
STEM Week  at Durrington High School 20th – 24th March 2023
In aid of British Science Week we are having our very own STEM week (Science, Technology, Engineering, and Maths), during the week of 20th – 24th March 2023.  During the week various workshops, guest speakers, competitions and new and creative STEM lessons will be delivered across the school.
During the week:
Prof. Prichard from The University of Birmingham will be speaking to students about evolution
A Bucky Ball workshop delivered by Dr Jonathan Hare
All KS3 science lessons will be hands on with a focus on the theme of 'connections'
Subject-specific STEM lessons including robotics in Computing
Soccer STEM Program at the AMEX
Specialised geography lessons
On Friday 24th March our KS3 students will be showcasing their projects in a STEM Festival. This will be running from 3.30-4.45pm in the Learning Resource Area. It will be open to all parents as a drop-in and will give you an opportunity to speak to our students, and discuss what they have been working on during that week.
Dr Keys & Mr Finch – Science teachers
Sporting success
Another busy two weeks in the PE department with the Year 7 girls football picking up two wins. One against Steyning winning 3-0 and another against Shoreham Academy winning 2-1 with an outstanding performance by Darcy Pollard in goal against Shoreham.
The Year 7 boys rugby picked up their first win against Worthing High School winning 35-20, however they have picked up losses after fantastic efforts against Angmering, Shoreham and St Andrews.
The Year 10 boys football team managed to put an incredible 8 goals past St Oscar Romero! This result moves them in the right direction towards a semi-final spot in their league.
The Year 8 rugby team came so close to picking up a win against Steyning RR narrowly losing 25-20 in a great battle and Kian Davies scoring all 4 tries for Durrington.
We look forward to the final standings of all our sports teams as we approach the Easter break.
Mr Brombley – PE Teacher
Maths challenge
Last half term some of our year 9 students took part in the Edge Hill University Maths Challenge.
The students arranged themselves into groups of 3-5 and then were given two engaging mathematical activities which not only tested their mathematical capabilities but also helped to develop their teamwork and communication skills.
The problems they were asked to solve were very different to KS3 and KS4 maths. The teams worked together finding the solution to one of the questions and presented it in a poster and judges have chosen the groups to go forward to the next stage.
Well done to Madoc, Zachary, Gabriel, Darcie, Sianna, Tamsin, Lucia, Ethan, Jacob, Alex, Cobi, Armin, Lucy, Molly, Lexi, Jasmine and Lucy – these 4 teams are through to Stage 2. Congratulations also to Callum, Greg, Sam, James and Frankie who completed Stage 1.
Mrs Buchanan – Maths teacher
Careers – apprenticeship season begins
Each year a number of students choose to gain employment via apprenticeships as an alternative to full time college. For those wanting the ultimate vocational experience they can be fantastic opportunities, and now is the time more Summer vacancies will be coming online.
Starting this week, year 11 will see examples of local job vacancies during Period 1, taken from the Find an Apprenticeship website. On w/c 20th March we are welcoming ASK Apprenticeships into school, with students who have shown an interest in this pathway taking part in workshops where they can explore, get registered and potentially apply either now or in the future. We always encourage a wide choice of destinations and are excited to offer this support in school.
If you want to know more about this process or need any other Year 11 Post 16 support, please get in touch with the careers team.
Mr Henry – Careers Leader
Computing update
Thanks to our IT technicians who have installed a further 30 HP ProOne 440 All-in-One PCs which are running windows 11 pro, intel core i5 and 8 GB of RAM. The huge 24-inch screens are perfect for programming and graphic manipulation.
All the computing rooms across the school now have large screens with the inbuilt computers, freeing up desk space from the old computer towers.
We are coming to the end of the micro:bit project with year 7s and they spent this week learning to send messages to each other using the micro:bit radio waves. The groups even had the chance to send some morse code messages and then go on a micro:bit treasure hunt – using the 256 different radio waves to solve some cryptic clues along the way. The year 7s have really enjoyed learning how to program these handheld devices and brought programming to life.
Y8 code club
Last week saw the students completing their project on self-driving vehicles that had the task of clearing debris. The students could see how these types of vehicles would be used in natural disasters, where recovery or clearing of roads is needed. When testing the vehicles, the debris was loose Lego and the vehicles successfully cleared paths removing it from the area.
Huge congratulations to Megan in year 9 who is the first student at DHS to complete the Gold award in the iDEA scheme. This is an amazing achievement as she was one of the first in the country too!
Students use iDEA for many of their computing homework projects and can complete the Bronze, Silver or Gold award. This has also earnt Megan her Gold Pride KAPP badge!
Mrs Taylor – Director of Business and Computing
Learning Resource Area
Reading is for EVERYONE, especially here at Durrington High School.
Durrington High School is proud of our brilliant library and what we can offer all our students, from reluctant readers to avid booklovers. With choice from over 14,000 books we recognise it can be really hard to even start to choose, so Mrs Baker and Mrs Dacosta have come up with some clever ideas to help readers navigate the stock more easily.
On top of our fiction books being in genre collections, making it easier to find books of a kind together, they have added some simple book branding to help students notice books for their content more easily. Students can easily spot different qualities of the book stock with stickers on spines of some, and the new addition of bookmarks flagging them as being part of a wider collection. Two newly introduced collections are the #Diffability books – championing authors and characters with both visible and invisible disabilities and the POC (People of Colour) collection which highlights and celebrates the authors and characters of colour we hold in our shelves. We love seeing the diversity of characters, authors, genres that our students engage with.
These initiatives were developed with discussion and input from the student body with the newly formed EDI and LGBTQ+ groups giving excellent feedback on what would be best received by students, alongside the help of a parent who offered to help design the logo for the POC collection. We are very grateful to Lynda Mangoro for her creativity and time in helping us create the branding that the students selected. She said "I can only imagine how much this will mean to so many young people (and adults alike!). It's a joy to be a part of it".
For examples of her fantastic work, visit her at https://www.facebook.com/LyndaMangoroArt and https://www.instagram.com/lyndalouiseart/
We are proud of the ever-improving inclusion and the diversity represented in YA publishing and happy that our teen readers find them engaging and we will always support our readers' rights to choose what they read.
When it comes to reading, every person deserves to enjoy the lifelong benefits of reading for pleasure. We recognise the importance of readers seeing their own life experiences reflected to them, to find celebration and/or comfort in them, as well as the opportunity for others to develop their understanding, empathy and compassion for everyone in society. Reading widely allows us all to understand that, although your experience of life may differ to some others, everyone's stories are valid and deserve the right to be heard as much as all others.
We love to celebrate amazing and diverse books along with their fantastic authors!
If you have been inspired to read more widely, we have curated a few reading lists on our school library pages which may be of interest:
On top of the ongoing development of our inclusive book collections, we continue our encouragement of keeping all students reading across the school. We recently launched a reading challenge for each form, asking them to log the books that they finish reading from the end of February to when we break for Easter. The reading task looks for them to read 100 books as a collective form group in that time and we were delighted when 7ACa delivered a beautifully decorated and completed sheet this week! They have received special rewards for being the first form to complete as well as each student gaining the Aspiration badge towards their KAPP seahorses. This really is outstanding, and Miss Cann as their form tutor has helped spur them on in this challenge.
Mrs Baker and Mrs Dacosta would like to say a huge thank you to all our staff and students who continue to make working in our lively library a brilliant task. We love sharing our love of reading with the students and look forward to hearing what books they are enjoying.
Mrs Baker – Library leader
Clubs@DHS
A reminder you can find all the latest extra-curricular clubs on our website here:
Easter activities in partnership with DHS
Activ8 For Kids

Activ8 For Kids are really excited to announce their new Easter Activity Hub at Durrington High School. They have a fantastic range of activities from skateboarding to hockey, to arts and crafts and cooking. Sessions available for children aged 4-11 years and more advanced sessions for teens aged 12-16 years. Places are limited and will go quickly so ensure you book your space in time. They are also able to offer a number of free places under the HAF scheme.
For young people that are in receipt of free school meals aged 12-16 can come and enjoy Audio Active's free Easter Holiday Music Programme. The sessions are run by a great team of experienced musicians, producers and rappers. The young people will learn how to make music, produce, sing, record and anything else they want to do.
All sessions are free and we provide a hot lunch:
When:
The sessions run from 11th-14th April (Shared performances on the 14th 3:30-7:00)
Where:
Audio Active 85-87 Montague Street
Times:
10:30-14:30

Recruitment
Are you a parent or carer interested in becoming a teacher? Come and train with an Ofsted outstanding provider!
Our school is part of a partnership of schools leading the way for more school-led teacher training as part of The South Downs SCITT. This is really important to us because it means we can choose the very best talent and develop them into teachers. Being able to choose who we train as teachers helps us in delivering the best outcomes for the students at Durrington High School.
We have vacancies now to start training from September 2023 and we would be very interested to hear from you if you are thinking of becoming a teacher or know someone who is.
Get in touch with the friendly team at The South Downs SCITT – Tel: 01903 705671
(Durrington Multi Academy Trust, The Boulevard, Worthing).
Social media
Don't forget you can follow all the latest news on our social media pages including our brand new Instagram page!
Facebook: Durrington High School | Worthing | Facebook
Twitter: Durrington High (@DurringtonHigh) / Twitter
Instagram: Durrington High School @dhssocialofficial
Diary dates
Monday 20th – Friday 24th March – STEM week
Tuesday 21st, Wednesday 22nd, Thursday 23rd March – Whole school musical
Friday 24th March – STEM Festival
Thursday 30th March – Dance Live
Friday 31st March – Last day of term
Monday 17th April – first day of the Summer Term (timetable week1)