We are delighted to have recently launched the DHS Student Kindness Passport. As part of our commitment to instilling the values of kindness, aspiration, perseverance and pride in our community, the kindness passport offers students tangible ways to show kindness and earn their kindness badge. 
All students have been issued with a passport and can start to complete the tasks outlined in order to earn points. You can also download the passport here.
There has been a real focus on kindness this term. During Period 1 on Friday 12th November all tutor groups were asked to come up with a definition of kindness. We were blown away by the definitions the students created. All were amazing but the overall winning tutor group were 11CGr with their quote: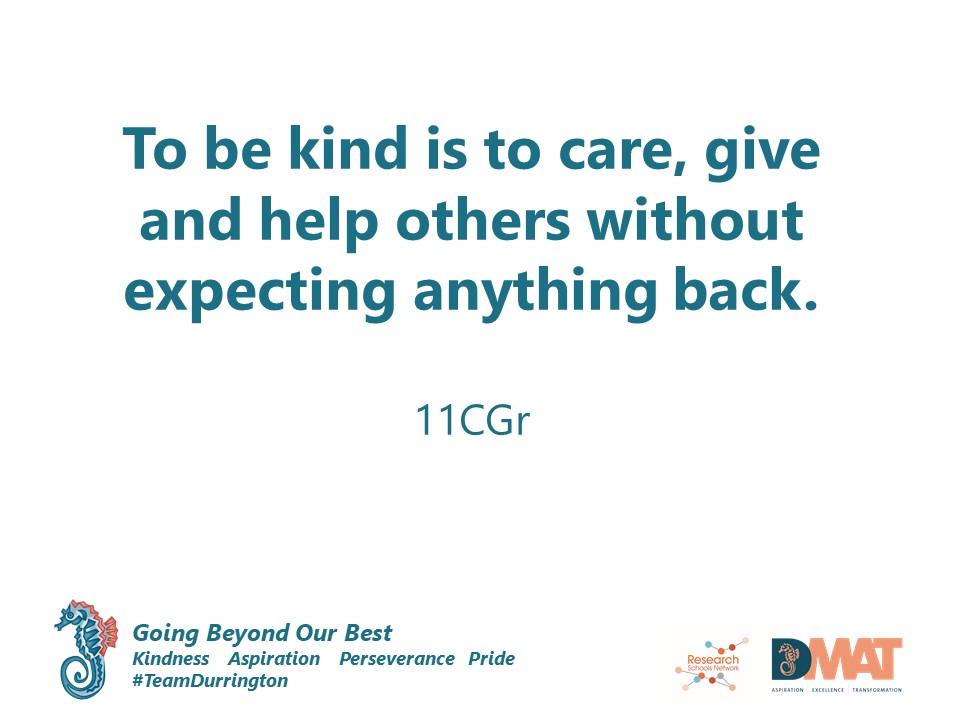 As we move towards Christmas all tutor groups will be taking part in our annual Hamper challenge and this year we have added Christmas stockings into the mix. The hampers will be distributed to disadvantaged pupils in our local primary schools and the hampers given to the Trussell Trust.  In a twist to previous years both hampers and the stockings must be completely decorated with sustainable (reused/second hand) and/or recyclable materials.
We would welcome donations of the following items for the hampers:
Feminine hygiene products
Toilet roll
Shampoo
Deodorant
Washing up liquid
Shaving foam
Hand wash
Toothbrushes
Toothpaste
We would welcome donations of the following items for the stockings ( Stockings need to be suitable for any child so no gender-specific items please):
New stationery items
Children's books (new or in good condition)
Chocolate/sweets
Mini games
New (small) stuffed toys
Notebooks
Stickers,
Colouring/puzzle book.
We will share photos of the hampers on our social media pages during the last week of term.